Industry experts agree: Hydrogen fuel cell technology is a key part of a global transition to a zero-emission future
Sustainable mobility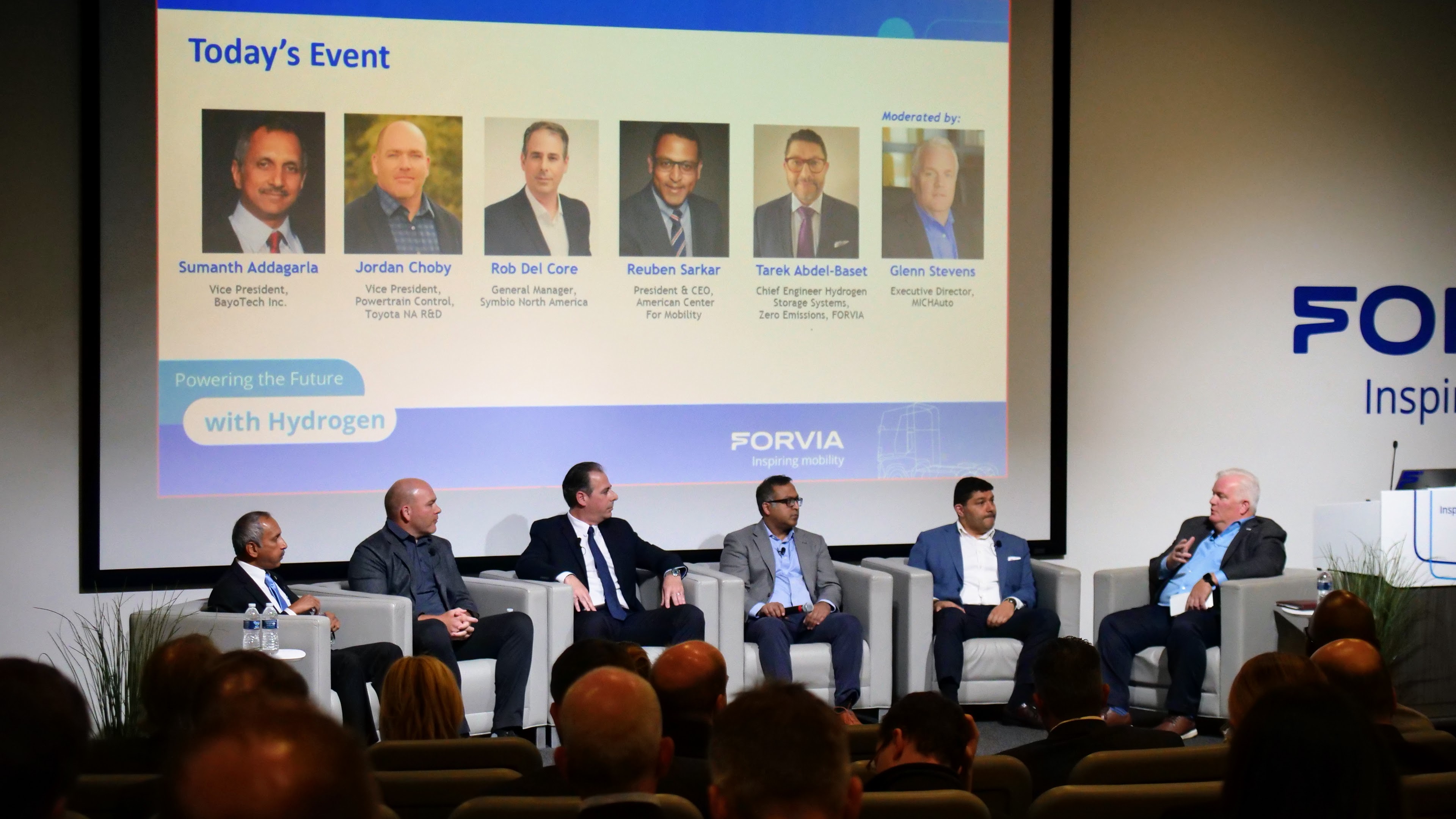 Hydrogen fuel cell systems offer range and refueling advantages for light duty and commercial vehicles

FORVIA is committed to being a global leader in hydrogen mobility with fuel cell and hydrogen storage systems

Panelists agreed that industry partnerships and government support are necessary to foster the creation of hydrogen infrastructure necessary for widespread adoption.

The U.S. federal Infrastructure Investment and Jobs Act supports hydrogen advancement with $8.8 billion for hydrogen hubs
AUBURN HILLS, Mich. (Oct. 6, 2022) – Earlier today in an event hosted by Faurecia, a FORVIA group company, industry experts outlined hydrogen's critical role in the transition to zero-emission vehicles. Panelists from Toyota, Symbio, American Center for Mobility and BayoTech Inc. confirmed that hydrogen fuel cell systems have matured and are ready for light duty and commercial mobility applications.
Panelists included:
Tarek Abdel-Baset, Hydrogen Storage Systems Chief Engineer Zero Emissions, FORVIA

Jordan Choby, Vice President Powertrain Control, Toyota Motor North America R&D

Rob Del Core, General Manager, Symbio North America

Reuben Sarkar, President & CEO, American Center for Mobility

Sumanth Addagarla, President, BayoTech Inc.
"Manufacturers from around the world have logged billions of miles on the road with hydrogen fuel cell vehicles, showcasing the flexibility and zero-emission advantages," said FORVIA Hydrogen Storage Systems Chief Engineer Tarek Abdel-Baset. "The technology has demonstrated itself to be, without a doubt, safe and reliable."
Hydrogen fuel cell systems offer refueling times comparable to internal combustion engines, while emitting only water.
FORVIA and Symbio, our joint venture with Michelin, have developed fuel cell systems for mobility. FORVIA's portfolio also includes containerized storage solutions. 
Today's event is in honor of National Hydrogen and Fuel Cell Day, October 8. The date is representative of the atomic weight of hydrogen (1.008).
FORVIA. which is committed to expanding its hydrogen footprint globally and in North America, has invested nearly 300 million euros in hydrogen technology since 2018 and has established a proven record of hydrogen commercial and light commercial vehicles with international OEMs. In recent years, FORVIA has:
Press Contact
Kenia RUIZ
Communications Manager
kenia.ruiz@forvia.com
248-296-2471
Misty MATTHEWS
Director of Corporate Communications and Public Affairs North America
misty.matthews@forvia.com
248-296-1112
About Faurecia
Faurecia, company of the Group FORVIA, is a global automotive technology leader.  With 257 industrial sites, 39 R&D centers and 111,000 employees in 33 countries, Faurecia operates through four areas of business: seating, interiors, Clarion Electronics and clean mobility.  In 2021, the Group reported total turnover of €15.6 billion. Faurecia is listed on the Euronext Paris market and is a component of the CAC Next 20 index. www.faurecia.com
About FORVIA
FORVIA, the world's seventh largest automotive technology player, comprises the complementary technology and industrial strengths of Faurecia and HELLA. With over 300 industrial sites and 77 R&D centers, 150,000 people, including more than 35,000 engineers across 40+ countries, FORVIA provides a unique and comprehensive approach to the automotive challenges of today and tomorrow
On the same topic
04.11.2022
Category
Sustainable mobility
05.04.2021
Category
Sustainable mobility